1100 Iraqis Die Violent Deaths in Baghdad During Single Month
Saddam's Generals are Leading the Insurgency
Guest blogged by David Edwards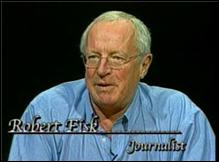 Earlier this week Robert Fisk was interviewed at California State Polytechnic University. Robert Fisk, a journalist for The Independant, is a specialist in reporting on the Middle East. Host, Saul Landau, asked Mr. Fisk about the current situation in Iraq.
Fisk makes some important points during this interview:
"Hotel Journalists" report from the hotel room because of dangers in Iraq. Government claims are usually reported as fact because journalists are not able to verify them. Journalists often fail to tell their viewers that the "facts" have not been verified.
Fisk got access to the Baghdad's mortuary database which journalists are not normally allowed to see. He discovered that during July, in Baghdad alone, 1100 Iraqis died violent deaths. (How does this square with George Bush's assertion that 30,000 Iraqis in total have died since the beginning of the war?)
There are "death squads on all sides" in Iraq.
"It's anarchy and chaos from Mosul all the way down to Basra. The idea that it's just a couple of provinces in a state of disturbance is ridicules."
"Iraq is going down the tubes. Iraqi people are more and more suffering, more and more dying tragic, terrible, painful, violent deaths."
"We're finished. The project is over. We can have as many referendums and constitutions as we like. Iraq is outside all government and Western control now with the exception of little fortresses in the green zone. And even there, mortars drop."
Fisk says that generals and other high-ranking military officials of the Iraqi Army which was disbanded by Paul Bremmer are now the leaders of the insurgency. These leaders still maintain the power structures and titles they held before the Army was disbanded. Most of these leaders speak English well and were trained by Western institutions. These men will be instrumental helping to take back control of Iraq after the Americans have left.
-- Video in Windows Media format...
-- Video in QuickTime format...
The entire video of Robert Fisk's interview includes some discussion on Robert Fisk's new book. It can be streamed from California State Polytechnic University.
( 26 so far... )