With Brad Friedman & Desi Doyen...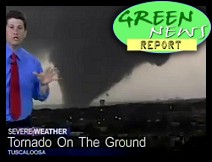 TWITTER: @GreenNewsReport
VIA SMART PHONE: Stitcher Radio!
IN TODAY'S RADIO REPORT: Record storms kill hundreds across the South; Half the nation lives with dangerously polluted air; New rules for industrial waste dumps in your drinking water; PLUS: Big Oil fights to keep $4 billion in taxpayer subsidies, as near-record gas prices bring record oil industry profits ... All that and more in today's Green News Report!
Got comments, tips, love letters, hate mail? Drop us a line at GreenNews@BradBlog.com or right here at the comments link below. All GNRs are always archived at GreenNews.BradBlog.com.
IN 'GREEN NEWS EXTRA' (see links below): The 'sorry state' of America's nuclear safety regulatory system; New study maps nuclear reactor safety worldwide; Google goal: making solar, renewables cheaper than coal; Chief offshore drilling regulator criticizes lack of oversight; What motivates a climate skeptic?; TX Gov: wildfires could blow hole in budget;Oil drilling blowout could spill 58 million gallons in the extreme, fragile Arctic; 21st century West to get even drier; Is biomass energy as 'green' as the industry claims?; New BPA Report Linked to Industry; Maine bans BPA; Energy Secretary Chu admits fracking has caused water pollution; National coal expert: "Mining is a loser" in practically every way ... PLUS: Royal wedding will be slightly greener wretched pile of excess than usual ...
--- Click here for REST OF STORY!... ---
( 3 so far... )