With Brad Friedman & Desi Doyen...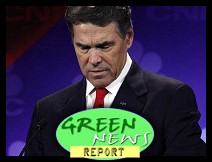 TWITTER: @GreenNewsReport
VIA SMART PHONE: Stitcher Radio!
IN TODAY'S RADIO REPORT: Perry can't remember the name of the Dept. of Energy --- but wants to shut it down; BREAKING: State Dept. may re-route controversial Keystone XL pipeline; Australia passes world's first carbon tax; More wacky extreme weather in weird places; PLUS: IEA: 5 years to avoid the worst consequences of climate change ... All that and more in today's Green News Report!
Got comments, tips, love letters, hate mail? Drop us a line at GreenNews@BradBlog.com or right here at the comments link below. All GNRs are always archived at GreenNews.BradBlog.com.
IN 'GREEN NEWS EXTRA' (see links below): Oil Executive: use military-style 'Psy Ops' to fight opposition "insurgency"; Video: 'The Story of Broke'; U.S.-China trade war in solar taking shape; Studies link auto pollution to autism; 1st commerical plane flight using biofuel; Oil Lobbyist likes oil industry subsidies: 'There Are No Loopholes ... PLUS: Current global warming unprecedented compared to last 20k years ... and much, MUCH more! ...
--- Click here for REST OF STORY!... ---
( 2 so far... )
Article Categories:
Texas
,
Alaska
,
Mainstream Media Failure
,
Accountability
,
Environment
,
Republicans
,
Green News
,
BP Oil Disaster
,
EPA
,
Fracking
,
Rick Perry
,
Natural gas
,
Coal
,
Nuclear power/weapons