With Brad Friedman & Desi Doyen...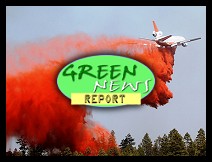 TWITTER: @GreenNewsReport
VIA SMART PHONE: Stitcher Radio!
IN TODAY'S RADIO REPORT: The U.S. Forest Service warns AZ's record wildfire is just the tip of the melting iceberg; Now a 2nd study warns warmer winters are the new normal; More bad news for nukes, as Italy votes against them, and a plant in Nebraska is now threatened; PLUS: Ethanol subsidies saved from the chopping block --- for now ... All that and more in today's Green News Report!
Got comments, tips, love letters, hate mail? Drop us a line at GreenNews@BradBlog.com or right here at the comments link below. All GNRs are always archived at GreenNews.BradBlog.com.
IN 'GREEN NEWS EXTRA' (see links below): US Nuclear Plant Safety Rules Inadequate; "Humans 'blissfully unaware' of coming climate crisis"; Sunspot Drop Won't Cause Global Cooling; EPA Administrator Calls Out Power Utilities; House Moves to Bar Genetically Modified Salmon; China in Lead Poisoning Cover-UP, Says Human Rights Watch; OH To Allow Oil and Gas Drilling at State Parks; A Green Solution, or the Dark Side to Cleaner Coal?; Building The Food Ark?; Google invests in home solar ... PLUS: Green jobs are real: U.S. solar employs more people than steel ...
--- Click here for REST OF STORY!... ---
( 2 so far... )