Guest blogged by David Edwards of Veredictum.com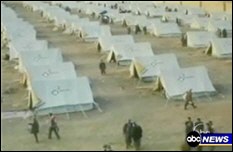 Video in Streaming Flash format...
Video in Windows Media format...
More than 30,000 Iraqis have been forced to flee from their homes after being threatened with death due to sectarian differences. This video from ABC News reports on one Iraqi family that has been forced into exile. While the video doesn't reflect the magnitude of the problem, it is one of the first reports broadcast to a large American audience.
In the ABC News video report, Professor of Mideast Studies at Sarah Lawrance College Fawaz Gerges says, "This is the beginning of the nightmare." Fawaz's experience tells him that Iraq is at the early stages of Bosnia's ethnic cleansing or Lebanon's civil war.
--- Click here for REST OF STORY!... ---
( 19 so far... )