With Brad Friedman & Desi Doyen...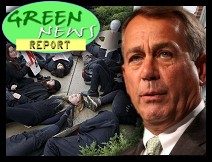 TWITTER: @GreenNewsReport
VIA SMART PHONE: Stitcher Radio!
IN TODAY'S RADIO REPORT: Arsenic and other tasty toxins contaminate groundwater near coal plants; Use less gas, pay more!; Bizarre meltdown at the Nuclear Regulatory Commission; BP gets a license to drill --- again --- in the Gulf of Mexico; Solar surges in 2011; PLUS: "Human oil spill" outside House Speaker John Boehner's office ... All that and more in today's Green News Report!
Got comments, tips, love letters, hate mail? Drop us a line at GreenNews@BradBlog.com or right here at the comments link below. All GNRs are always archived at GreenNews.BradBlog.com.
IN 'GREEN NEWS EXTRA' (see links below): What the Frack?: Add Quakes to Natural Gas Rush; Wisconsin Mine Plan Prompts Backlash; Exxon Mobil predicts surge in hybrid vehicles; Putting US Farmland on a Fertilizer Diet; Killing of Wolves From Air Draws Fire ... PLUS: Facebook Unfriends Coal, Partners with Greenpeace for Clean Energy Future ... and much, MUCH more! ...
--- Click here for REST OF STORY!... ---
( 2 so far... )
Article Categories:
Fox 'News'
,
Wisconsin
,
Mainstream Media Failure
,
U.S. House
,
Environment
,
Halliburton
,
U.S. Senate
,
Democrats
,
Republicans
,
Rush Limbaugh
,
Green News
,
James Inhofe
,
BP Oil Disaster
,
EPA
,
Japan
,
NRC
,
Koch Industries
,
Coal
,
Nuclear power