Red Crescent Claims 'Somebody is Behind Highly Organized Ethnic War'
Guest blogged by David Edwards of Veredictum.com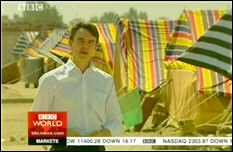 Video in Streaming Flash format...
Video in Windows Media format...
The number of Iraqis forced from their homes due to organized campaigns of ethnic cleansing has increased from 30,000 to 100,000 in the month of April.
Only a month ago, we posted a video from ABC News which reported that 30,000 Iraqi had been forced from their homes due to sectarian threats. Some have described the situation that has created thousands of Iraq refugees as an organized effort of ethnic cleansing.
Just 20 days after our initial report, the Iraqi Red Crescent estimates that over 100,000 Iraqis have become refugees in their own country. Some suggest that the number of displaced people might be much higher but the current security situation in Iraq prevents even a cursory audit of more than 1000 refugee camps.
This video combines a report from BBC with an Arab news report from Baghdad. The BBC's James Reynolds reports from one of the 'tent cities'. Reynolds is told by the Iraqi Red Crescent that "somebody is behind this war. It is highly organized."...
--- Click here for REST OF STORY!... ---
( 15 so far... )