Deadline Looms for Kidnapped Journalist Jill Carroll
Guest blogged by David Edwards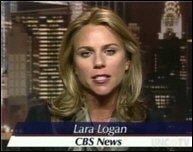 PBS Newshour invited several journalists with experience reporting in Iraq to comment on the kidnapping of Jill Carroll. Carroll is a freelance reporter that was working on a story for the Christian Science Monitor when she was abducted and her translator was killed on January 7th.
CBS journalist Lara Logan was asked how the lack of security in Iraq effected the ability to gather news. Logan responded to a complaint, often made by the Bush Administion, that positive stories are not reported as often as negative news.

The big complaint about this war coming from the American military and the Bush Administration is that the media aren't telling the "real story". They don't talk about the good things that are happening and I frequently say to American Military officers and soldiers on the ground:
"Look, you want us to risk the lives of all our team to come and film the opening of a bridge that was intact before it was bombed in this war anyway or a school that's had new windows being put in and has been painted. I mean, those are just not reasons to risk the lives of all the people that are involved in trying to tell the story."
Until journalists have the freedom of movement, not just around Baghdad but around the country... We used to be able to drive to Fallujah. I want to go down to Najaf and interview Mohammed al-Sadr. I can't do that anymore.
It has a huge impact on our ability to tell the story.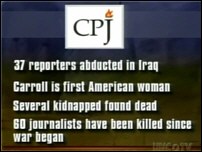 Since the beginning of the war in Iraq, 39 journalists have been kidnapped and 60 journalists have been killed. About 200 foreigners have been kidnapped in total.
Jill Carroll's kidnappers have given authorities 72 hours to release the 8 women that have been detained by security forces in Iraq. The deadline expires Friday night.
In the meantime, the security situation in Iraq is not improving. Just this morning, bombings in Baghdad have left 23 people dead.
See Lara Logan's comments about the dangers of reporting in Iraq in the following PBS Newshour video.


Video in Streaming Flash format...
Video in Windows Media format...
( 25 so far... )