Guest blogged by David Edwards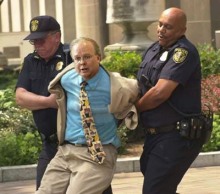 Radar Magazine is reporting a buzz of unconfirmed rumors in D.C. that indictments may be imminent from Fitzgerald's grand jury:

The D.C. Rumor mill is thrumming with whispers that 22 indictments are about to be handed down on the outed-CIA agent Valerie Plame case. The last time the wires buzzed this loud — that Tom DeLay would be indicted and would step down from his leadership post in the House — the scuttlebutters got it right.
Can it be a coincidence that the White House appears to be distancing President Bush from embattled aide Karl Rove? "He's been missing in action at more than one major presidential event," a member of the White House press corps tells us.
If there is any truth to this rumor, we wonder how the indictments match up with Think Progress' list of 21 Administration Officials Involved In Plame Leak.
Meanwhile, The Raw Story has confirmed that Rove has been missing from White House events and that he may be a target of the probe:

President Bush's most trusted adviser, Karl Rove, has been absent from recent White House events, leading those close to a CIA outing case to speculate that he has been told he is the target of an investigation, RAW STORY can confirm.
Rove disappeared from the scene around the time he was diagnosed with kidney stones in mid-September, sources close to the White House tell RAW STORY. At first, the belief was that he was off the beat to recover from his illness.
But his absence at President Bush's press conference where he announced that Harriet Miers would be his choice to succeed Sandra Day O'Connor on the Supreme Court raised eyebrows. Rove is usually present at such events.
Word on Capitol Hill is that Rove has received a "target letter," or a letter from the prosecutor investigating the outing of CIA agent Valerie Plame Wilson telling him that he is now a target in the investigation. To date, no reporters have been able to confirm this account.
Some are wondering if these rumors could simply be a Rovian stunt to distract from other very real and very damaging news?
...developing...