Miers nomination is 'a disaster on every level'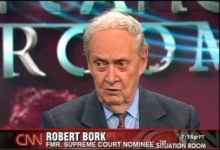 Guest blogged by David Edwards
I found myself agreeing with Robert Bork on several of his arguments (ie spending, deficit) against bush. I feel so dirty.
Bork says that conservatives consider the nomination of Miers to be "the final straw" for the support of Bush.
Here's the video:
Streaming video in Real Media format...
Video in Windows Media format...