Rove and Libby 'compared notes' about leaks to reporters
Guest blogged by David Edwards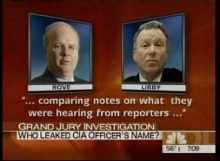 NBC Video in Windows Media format...
NBC Video in QuickTime format...
NBC Today reports that Rove and Libby were "comparing notes about what they were hearing from reporters" before Novak first exposed CIA officer Valerie Plame's cover in an article on July 14, 2003.
Sources close to the investigation say Rove told Libby that he learned about Plame from Novak and Libby told Rove that he learned about Plame from Tim Russert. By process of elimination, we believe that this "source" is probably Rove's lawyer who is known to have leaked other information to the media.
The Associate Press reports that Libby's lawyer would not comment but fails to mention Rove's lawyer which probably means that he is the source for this leak:

The Rove-Libby contacts were confirmed to The Associated Press by people directly familiar with testimony the two witnesses gave or were shown before the grand jury. All spoke solely on condition of anonymity because of the secrecy of the proceedings.
Libby's lawyer, Joseph Tate, did not return repeated phone calls this week seeking comment.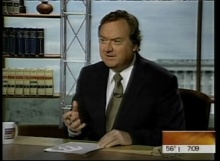 Think Progress comes to a similar conclusion about leaks coming from Rove's lawyer noting that the White House official policy is not to comment on ongoing investigations.
So, why would Rove's lawyer leak information that contradicts testimony given by Judith Miller and Tim Russert?
We are also pleased to see that NBC is now being forced to report on Tim Russert's role. As Arianna Huffington notes, Russert has previously downplayed or neglected to report on his involvement in the scandal. A new article at the Booman Tribune closely examines the mystery behind Russert's silence and his connection with Libby.
UPDATE: AP is reporting that a GOP/White House effort to "blame the media" in the CIA leak case is not working. As new "leaks" reveal more details of the investigation, the White House's "unofficial" talking points become inoperative.