[UPDATE] Transcript of Speech Now Added...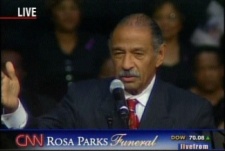 Guest blogged by David Edwards
Thousands are attending Rosa Parks' funeral in Detroit. CNN has had great coverage. MSNBC has also aired a good deal of highlights. Fox News... not so much.
Not surprisingly, Bill Clinton gave a touching speech. There were so many other moving speeches. We found special meaning in the words of Rep. John Conyers, who gave a job to Rosa Parks. He also reminds us about the problems that Americans, black and otherwise, still have in ensuring that their votes are actually counted and their voices are, therefore, heard...
Video in Windows Media format...
Video in QuickTime format...
Audio in MP3 format...
The full transcript of Conyers' speech follows...
CNN CORRESPONDENT #1: John Conyers was the Congressman who invited Rosa to join his staff and gave her a job in Detroit. That's how she got to Detroit.
CNN CORRESPONDENT #2: Let's listen in.
CONGRESSMAN JOHN CONYERS: ...Rosa Parks the honor that she received. We didn't know if we could get airplanes. We went to the Speaker's office and they put us in touch with the Pentagon, and after we got a plane, we realized we needed two, and here we have so many people out here and I just wanted all of my colleagues in the Congress to know that the power you feel, in this church today, is part of the power that that she left when she walked on this earth and lived in Detroit for year, after year, after year, working in my office. Can you imagine coming to work, and you have Rosa Parks sitting in your office? I went through some adjustment. I mean this was a celebrity staffer folks, if there ever was one. We got along so well, because she had that "Mother Teresa" like aura that brought peace and harmony. I've never heard her in an argument, in my life. I've never heard her raise her voice, in my life. I've never heard her speak in angry tones, or negatively about anybody. It wasn't in her. And that's why, somehow, the world, the country, and particularly, we the beneficiaries, have been so inspired and thrilled by the reception and the home-going that Rosa Parks has received in going to heaven.
Now, this struggle for justice, that we've been talking about in such restrictive terms, about her experience, now is much wider. We're talking about a Civil Rights Movement that has morphed to a Human Rights Movement. We're talking about the rights of women, of children, of human beings all over the world. So, we were disturbed when we saw how hurricane Katrina and Rita made us remember how deep poverty and race have brought hardships still, in America, even though we thought we had come so far. We know now that what we're doing today in the Congress is having hearings on The Voter Rights Act of 1965. We're still trying to figure out how to get people to do what it took her so long to do. Guess what? There are millions of people not voting, who ought to be voting. Some of them are being prevented or discouraged from voting, there are new ways now or you can change district lines and get all kinds of results. But there's some people not voting because they've given up. There's some people not voting because they don't take this message that we have learned from Rosa, here today – that you keep on keeping on. And so, I just want you to remember that today there is a race in the world testing whether our Democratic destiny can triumph over our Imperial destiny. Whether we are really going to be the leaders of freedom and justice in the world, or we're just going to take out whoever we want and do what we want anywhere in the world, cause we're the most powerful. You know, that goes back to Rosa Parks too, doesn't it? And so, I am so proud to have had her come our way, to come to Detroit, and I just can remember only this – when Nelson Mandela, after 27 years of imprisonment, came back to lead his country and he came to Detroit, and when he found out that Rosa Parks had come out to meet him, some of you were there, he started this chant, "Rosa Parks, Rosa Parks, Rosa Parks…" That was Nelson Mandela, who Rosa Parks had come out to pay tribute to. The first thing he did was pay tribute to Rosa Parks, when he came to Detroit. Mandela, Rosa Parks, and the person she gave the leadership mantle to, Martin Luther King. And so, my brothers and sisters, I just want you to know, we've got a tremendous legacy to fulfill, and here's what it is… We've got to realize that you can't maintain a Democracy and an Empire, simultaneously. Rosa, you taught me that and I'm happy and proud to stand here with all of you today. Thank you, God Bless You.