Pentagon's 'Able Danger' could have prevented USS Cole bombing and 9/11
CNN Reports on Weldon's Claim: 'Most Important Story of Our Lifetime'
Guest blogged by David Edwards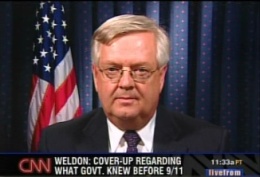 While we are not certain of Representative Weldon's motives, he does manage to keep the "Able Danger" story in the news. In this interview with CNN's Lou Dobbs, Weldon asserts that intelligence from the "Able Danger" group could have prevented the bombing of the USS Cole and the attacks that took place on September 11, 2001.
Weldon was also quoted in an article published earlier today by Eric Rosenberg of Hearst Newspapers:

Citing information provided to him by Navy Capt. Scott Philpott, the former manager of the Able Danger project, Rep. Curt Weldon, R-Pa., said that two weeks before the Oct. 12, 2000, attack - and then again two days before - the intelligence unit uncovered evidence of a plot against an unnamed U.S. target in Yemen.
"They saw information that led them to unequivocally understand that something was going to happen in the port at Yemen involving an American entity," said Weldon, vice chairman of the House Armed Services Committee.
"Two days before the attack, they were jumping up and down because they knew something was going to happen ... at the port of Aden," Weldon told a Capitol Hill news conference.
Video in Window Media format...
Video in QuickTime format...