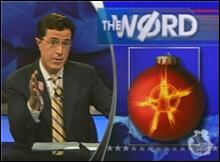 Guest blogged by David Edwards
Stephen Colbert, host of The Comedy Channel's Colbert Report, spoofed Fox New's top rated Bill O'Reilly. Colbert regularly mocks O'Reilly's "Talking Points" segment with his own version call "The Word".
Colbert's latest rant, pokes fun at Bill O'Reilly's much-hyped "War on Christmas". O'Reilly has previously attacked the The Comedy Channel, calling it "The Secular Channel". (Check out this BRAD BLOG report for the full scoop.)
Video in Windows Media format...
Video in QuickTime format...