Guest blogged by David Edwards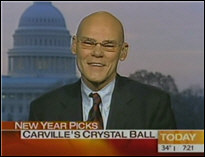 James Carville appeared on NBC's Today Show to give his political predictions for 2006.
The Senate will make history by doubling the number of African-American senators. Senator Frist has said that he will not run for a third term. Carville predicts that Representative Harold Ford Jr. (D-TN) will win Frist's vacated Senate seat.
Alito will be confirmed after a big fight in the Senate. Democrats may filibuster but Republicans will refrain from using the 'nuclear option' because it is opposed by most voters. Carville expects a large fight about Alito's position on civil rights. In the end, the Democrats don't have the numbers to block Alito's confirmation.
There will be major troop reductions in Iraq. While Bush claims that he will 'stay the course', the political pressure of an election year along with the Shia domination of the Iraqi government will force significant troop reductions.
The Abramoff scandal will result in 7 congressmen pleading guilty or being indicted. Sources say that Abramoff has agreed to cooperate with Federal prosecutors. Carville says it will be a good year for Court TV.
Carville predicts that the remake of "All the King's Men" will be the hottest political film of 2006... but he's also the executive producer so this is more of a plug than a prediction.

Video in Windows Media format...
Video in QuickTime format...