Guest blogged by David Edwards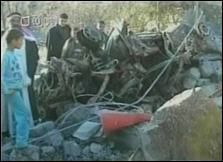 As BRAD BLO reported when this story broke earlier this week, US air strikes north of Baghdad destroyed a house and killed an Iraqi family as they prepared for bed.
US military spokesman Lieutenant Colonel Barry Johnson said that three suspicious men were seen by an unmanned drone. US Forces used precision guided munitions to destroy a nearby building.
Descriptions of the situation by local police and witnesses do not agree with the official version offered by the US military. Reuters quoted police chief Colonel Sufyan Mustafa: "I absolutely confirm there were no terrorists in this house."
Some believe that the US intends to increase the use of air strikes in coming months. Air strikes increased during the course of 2005 from 20 per month to 120 per month. In the December 5th edition of The New Yorker, Seymour Hersh writes:

Quick, deadly strikes by US warplanes are seen as a way to improve dramatically the combat capability of even the weakest Iraqi combat units. The danger, military experts have told me, is that while the number of American casualties would decrease as ground troops are withdrawn, the over-all level of violence and the number of Iraqi casualties would increase unless there are stringent controls over who bombs what
This translated Syrian TV report is the only significant video coverage we could find detailing the deadly air strikes reported by BRAD BLOG earlier this week.


Video in Streaming Flash format...