Guest blogged by David Edwards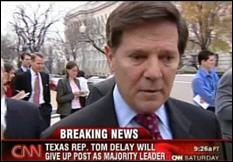 DeLay's spokesman has informed the Speaker of the House Dennis Hastert that he will not seek to reclaim his old post as Majority Leader.
Due to pressure from the Abramoff scandal and other corruptions scandals, this may the beginning of a Republican shake-up in the House.
GOP leaders hope that removing DeLay from the Majority Leader post and dirty tricks will put them on track to maintain control of the House in the upcoming 2006 elections.


Video in Streaming Flash format...
Video in Windows Media format...