U.S. Has Undertaken Illegal Activities in Europe
Guest blogged by David Edwards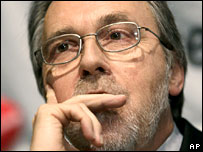 Dick Marty, a Swiss Senator, is leading the Council of Europe's inquiry into reports that the C.I.A. operated secret prisons in several European countries. Marty is also looking into other C.I.A. activities including the use of European airports and airbases for U.S. rendition flights along with kidnappings and torture on European soil.
Investigators are scheduled to complete a preliminary report on January 23rd. Dick Marty gave a press conference where he shared some of his early conclusions.
Marty accuses the U.S. of violating civil rights. He also says that European leaders have known about the U.S. crimes. Several European leaders are complicit because of their "shocking" passivity. Marty has no doubt that the secret prisons exist and that the U.S. activities in Europe are illegal.
BBC has documented more of Dick Marty's allegations in this article and the following video report.


Video in Streaming Flash format...
Video in Windows Media format...