Guest blogged by David Edwards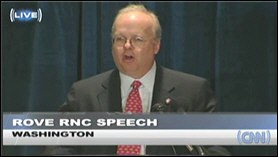 Video in Streaming Flash format
Audio in MP3 format
(playing time: 9 minutes)
Rove gave this speech today to the Republican Nation Committee. The speech suggests strategy and talking points that will be used by RNC candidates and operatives in preparation for the 2006 elections.
Rove's tone is more moderated than in the past. We suspect that this is due to a variety of mounting troubles for the GOP along with waning public support. Republicans will want to project positive perception of their candidates while again using 'Swift Boat' tactics for the negative attacks.
UPDATE FROM BRAD: I'll somewhat disagree with the good David Edwards, only to say (at least from the clip posted) it doesn't seem that Rove has "moderated" much. He continues to smash up Democrats with the same misleading and factually incorrect horseshit that he (and Bush and Cheney) have been using for quite a while. Including the inaccurate characterization of scores of Democratic Party positions. Will the "Uniting, Not Dividing" ever stop?!
And, on one more thought, he talks about the remarkable economy of 2005. Bad timing, I guess, since the Dow just plummetted 213 points today, wiping out most of the gains from 2005 in a single day.
UPDATE: New York Times article:

In Preview of G.O.P. Campaign, Rove Tears Into Democrats
WASHINGTON, Jan. 20 - Karl Rove, the president's chief political adviser, gave nervous Republicans here a preview of the party's strategy to maintain its dominance in the fall elections today, assailing Democrats for their positions on terrorism, the White House eavesdropping program and Mr. Bush's attempt to shape the federal judiciary.
For 26 minutes, after calling for civility in politics in a packed speech before the Republican National Committee, Mr. Rove offered a lacerating attack on Democrats that other Republicans said was a road map for how the party would deal with a tough electoral environment. Mr. Rove sharply criticized Democrats for their opposition to tax cuts and Mr. Bush's Supreme Court nominations, but he left little doubt that once again - as has been the case in both national elections since the Sept. 11 terrorist attacks - that he was intent on making national security the pre-eminent issue in 2006.
Mr. Rove speeches this early in an election year have proved to be accurate predictors of what Republican candidates would say in the fall, and thus every seat in the ballroom at a downtown Washington hotel was filled. He lacerated Democrats for what he described their "cut and run" policy on Iraq, for blocking a renewal of the broad antiterrorism law known as the USA Patriot Act, and for challenging the legality of the administration's widespread use of warrantless wiretaps in the face of widespread criticism.
...
Mr. Rove was mostly optimistic about his party's prospects at a meeting in which some Republicans have expressed concern about the political environment Republican candidates might be running in, pointing to the war in Iraq, high gas prices and the investigations. "The G.O.P.'s progress during the last four years is a stunning political achievement," he said.