Guest blogged by David Edwards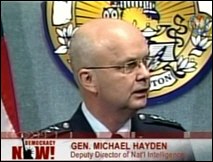 Prior to the Feb. 6th Senate Judiciary hearing on the NSA's Domestic Spying program, the Bush Administration is rushing to frame the debate. Most of the talk has amounted to little more than political spin.
Principal Deputy Director of National Intelligence, Gen. Michael Hayden lead the PR blitz by taking questions from reporters at The National Press Club on Monday. The General confirmed to NSA expert James Bamford and Jonathan Landay with Knight Ridder that a feature of the NSA program was the lowering of the legal standard from 'probable cause' to 'reasonably believe' (a.k.a. 'reasonable suspicion') --- which would avoid the FISA Law requirements.
Besides showing that he had a limited understanding of the Fourth Amendment, Hayden's assertion of the Constitutionality of lowering the 'probable cause' standard has troubled many. This Kos diary calls the admission "explosive and damning" and goes on to say:

Mark my words, Hayden's revelation that a reasonable suspicion standard is being applied to United States citizens is perhaps the most damaging admission by a government official to date about the program. With a single exchange, Hayden demonstrated that indeed, Bush's program violates established case law and the Constitution. With a single statement, Hayden proved that Congress did not, would not, and will not approve of this program. And with his revelation, Hayden revealed that this administration knew what it was doing was just plain wrong.
The following video is a compilation of clips from General Hayden's press conference and comments from James Bamford focusing on the 'probable cause' issue.
Democracy Now has a complete transcript of the exchange.


Video in Streaming Flash format...
Video in Windows Media format...
CORRECTION: A previous update identified Hayden as NSA Deputy Director, instead of Principal Deputy Director of National Intelligence. The BRAD BLOG regrets the error.