Guest blogged by David Edwards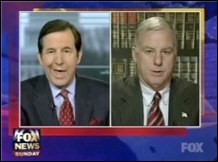 Chris Wallace interviewed Howard Dean on Fox News Sunday earlier today.
Dean sticks to his guns on illegal wiretaps and calls for the President to release all Abramoff records from the White House.
Chris Wallace, once again, asserted that Democrats are largely tainted with Abramoff money. Of course, Wallace ignores this non-partisan study that the great majority of contributions from Abramoff clients largely went to Republicans


Video in Streaming Flash format...
Video in QuickTime format...