Guest blogged by David Edwards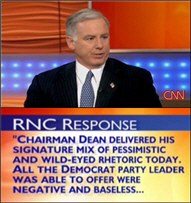 The GOP attacked Howard Dean's Sunday interview on CBS Face the Nation (video here). Dean responded to the attack on CNN's American Morning.
Dean also said that that Vice President Cheney "has to go" if he authorized Scooter Libby to leak the classified National Intelligence Estimate as court documents have indicated.


Video in Streaming Flash format...
Video in Windows Media format...