Three Republican Candidates Threaten DeLay
Absentee Ballot Problem Sends Bush to Vote in Texas
Guest blogged by David Edwards of Veredictum.com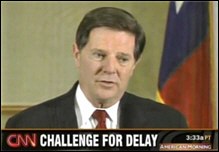 Video in Streaming Flash format...
Video in Windows Media format...
Tom DeLay faces three Republican challengers in today's Sugerland Primary Election but he isn't sticking around for the results. DeLay is on his way back to Washington for a fund-raiser.
In related news, President Bush is flying to Texas today to vote. It has been reported that an aide made a mistake with his absentee ballot.