Guest blogged by David Edwards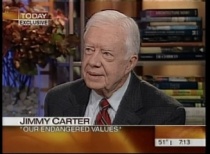 President Jimmy Carter appeared on the NBC's Today Show this morning to promote his new book Our Endangered Values.
President Carter spoke about several of the many scandals that the Republicans and Bush White House are now facing. In particular, Carter holds strong views against torture, the outing of Valerie Plame and the misused intelligence and lies prior to the invasion of Iraq.
Video in Windows Media format...
Video QuickTime format...
UPDATE: Transcript added below...

--- Click here for REST OF STORY!... ---
( 8 so far... )