Police Break Up Incident, Fire Indiscriminently and Beat the Film Crew as Taliban Escape
All as Bush Rolls Into Town Touting 'Success' of Afghanistan Campaign
Guest blogged by David Edwards of Veredictum.com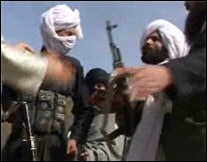 Video in Streaming Flash format...
Video in Windows Media format...
This is truly amazing reporting from a very dangerous situation. A film crew from UK's Channel Four was threatened with execution while filming the Taliban burning a school accused of teaching Western ideology.
It seems that the camera man is on his knees as members of the Taliban threaten the lives of the film crew. Before the matter is resolved, machine gun fire is heard and the Taliban men scramble for cover. Pakistani special police are seen running into the frame shooting wildly into the air.
As the Taliban disappear, the Pakistani police begin beating the film crew. The producer falls to the ground and he is repeatedly hit with an assault riffle. The police are clearly not trained well. Apparently, all of the Taliban were able to escape this encounter.
President Bush visited Afghanistan earlier this week and trumpeted success of the war. Facts on the ground call Mr. Bush's claims into question.
( 16 so far... )