[UPDATE] Transcript of Speech Now Added...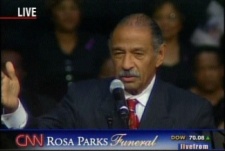 Guest blogged by David Edwards
Thousands are attending Rosa Parks' funeral in Detroit. CNN has had great coverage. MSNBC has also aired a good deal of highlights. Fox News... not so much.
Not surprisingly, Bill Clinton gave a touching speech. There were so many other moving speeches. We found special meaning in the words of Rep. John Conyers, who gave a job to Rosa Parks. He also reminds us about the problems that Americans, black and otherwise, still have in ensuring that their votes are actually counted and their voices are, therefore, heard...
Video in Windows Media format...
Video in QuickTime format...
Audio in MP3 format...
The full transcript of Conyers' speech follows...
--- Click here for REST OF STORY!... ---
( 32 so far... )