Conservatives label him as 'anti-patriotic'
Guest blogged by David Edwards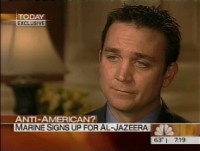 Marine Captain Josh Rushing has taken a job reporting for an Arab news network which is drawing criticism from some conservatives. He was recently interviewed by NBC's Today Show.
Video in Windows Media format...
Video in QuickTime format...
The Arab language news network Al-Jazeera has plans to begin broadcasting an English-language channel by Spring of 2006. The network already had 30 to 50 million viewers in the Arab-speaking world. The network has been called propagandists, liars and terrorists by many neocons like Donald Rumsfeld and Fox News pundit Bill O'Reilly. Even so, Al-Jazeera is almost certain to be a popular news alternative for many English-speaking viewers when it launches.
--- Click here for REST OF STORY!... ---
( 11 so far... )