Vote Held Open Until Republicans Received Margin of Victory, Then Promptly Shut Down!
Congresswoman: 'An unethical subversion of our democracy'
Guest blogged by David Edwards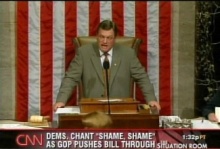 Republican House members DeLay, Barton, Hastert and Blunt held the vote open on a controversial energy bill until they were able twist enough arms for the bill to pass.
Although only 5 minutes are allotted for voting, Republicans refused to close the voting for 40 minutes until enough votes had switched to pass the energy bill which will gut environmental standards in favor of building more oil refineries.
Video in Windows Media format...
Video in QuickTime format...
When over two dozen Republicans initially voted no, DeLay, Barton, House Speaker Dennis Hastert and new Majority Leader Roy Blunt circled the chamber to cajole holdouts.
Republican Wayne Gilchrest of Maryland was the last to switch. With the tally stuck at 211-211, Gilchrest changed his vote, making it 212-210. Barton promptly shook his hand and Republican Mike Simpson, who presided over the vote, gaveled it to an end.
...
Several Democrats protested that the vote was held open. "I am informed that every member of Congress who is in town has voted," Democratic whip Steny Hoyer of Maryland said at one point, when the tally was 210 yes, 214 no.
House Democratic leader Nancy Pelosi also complained, saying the proceedings brought "dishonor to the House."
UPDATE: Jesse from Stakeholder has more, including this quote from Rep. Louise M. Slaughter (D-NY):
"Once again, on an issue of critical importance to the American people, the Republican Majority has chosen to trample the democratic process and manipulate the outcome of a vote on the Floor of the House of Representatives, after the vote was completed."
"This is an unethical subversion of our democracy. The Republican Leadership has brought shame on themselves and the House of Representatives."
FURTHER UPDATE: ThinkProgress has more, including the C-SPAN version of the video...