Using the fear of terror for political goals...
Guest blogged by David Edwards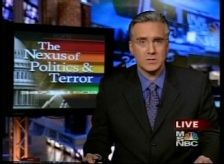 As we noted earlier, on tonight's broadcast MSNBC's Countdown presented a report called "The Nexus of Politics and Terror".
In a piece which mildly reminds us of the BBC series The Power of Nightmares (video here), Countdown host, Keith Olbermann, provides evidence that politicians may use the fear of terror attacks to accomplish political goals.
Video in Windows Media format...
Streaming Video in Real Media format...
Audio in MP3 format...
Read more at MSNBC's Bloggerman...