Source: Chalabi responsible for the forged WMD documents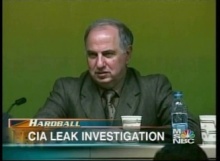 Guest blogged by David Edwards
Video in Windows Media format...
Video in QuickTime format...
This report from tonight's episode of MSNBC's Hardball suggests that Fitzgerald has expanded the 'traitorgate' investigation to include the forged documents that the Bush Administration used to mislead Americans into thinking that Iraq was trying to purchase uranium from Niger to build a nuclear weapon.
The report also says that Judy Miller's source, Ahmad Chalabi, was responsible for the forged documents.