Bush wanted to bomb Arab news network to prevent reports on Falluja attack
Guest blogged by David Edwards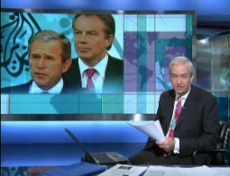 On Wednesday, Downing Street threatened The Daily Mirror with prosecution under the Britain's Official Secrets act for the disclosing a memo that indicated Blair had convinced Bush not to bomb the Arab language news network al-Jazeera.
News organizations in the U.K. can no longer report the contents of the memo but a report from London's Channel 4 News questions this first and historic use of the Official Secrets Act against the press. Their reporting concludes that White House pressure led to the threat of legal action against The Daily Mirror.
Video in Windows Media format...
Video in QuickTime format...
Audio in MP3 format...
Higher quality video available for download from Channel 4.
In related column printed in Daily Telegraph , MP Boris Johnson proclaims "I'll go to jail to print the truth about Bush and al-Jazeera"

Who knows? But if his remarks were just an innocent piece of cretinism, then why in the name of holy thunder has the British state decreed that anyone printing those remarks will be sent to prison?
We all hope and pray that the American President was engaging in nothing more than neo-con Tourette-style babble about blowing things up. We are quite prepared to believe that the Daily Mirror is wrong. We are ready to accept that the two British civil servants who have leaked the account are either malicious or mistaken. But if there is one thing that would seem to confirm the essential accuracy of the story, it is that the Attorney General has announced that he will prosecute anyone printing the exact facts.
What are we supposed to think? The meeting between Bush and Blair took place on April 16, 2004, at the height of the US assault on Fallujah, and there is circumstantial evidence for believing that Bush may indeed have said what he is alleged to have said.