Guest blogged by David Edwards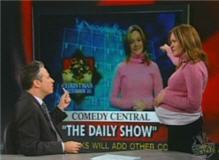 As BRAD BLOG reported earlier, The Daily Show's Jon Stewart slammed Fox News and Bill O'Reilly for hyping the divisive myth that Christians in the U.S. are being persecuted. O'Reilly is just one of the Fox anchors claiming that the Christmas holiday is under seige by an evil secular conspiracy --- but he may be the lyin'ist!
Stewart asked Samantha Bee to help fact-check O'Reilly's "reporting"...
-- Video in Windows Media format...
-- Video in QuickTime format...
UPDATE FROM BRAD: Here's our original report in which we discovered the true meaning of Christmas: Lying about comedy shows to prop up yourself, your sad little agenda, and your phony little "War on Christmas"...Oh, and find a Jew to make stuff up about America while you're at it.