Guest blogged by David Edwards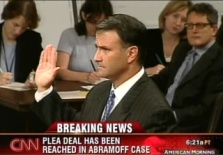 This morning, lawyers for super-lobbyist Jack Abramoff revealed a plea deal where Abramoff will plea guilty to fraud charges in a Florida fraud investigation. In return for the deal, Abramoff agreed to cooperate with any other federal investigations. AP has filed this report.
Republicans are worried about information that may implicate as many as a dozen in Congress including Tom DeLay and Bob Ney. Senator Conrad Burns (R-MT) is up for re-election and has returned more than $100,000 in campaign donations. Polls in Montana show that Senator Burns' constituents are becoming concerned about his dealings with Abramoff.
ThinkProgress and RAW STORY are reporting that a news conference will be held at 12:30 et today. Some DU members suspect that the Abramoff scandal is masking foreign influence peddling by the GOP.


Video in Streaming Flash format...
Video in Windows Media format...
UPDATE: David Corn asks "What's Good for Abramoff Is Good For America?" And in a just-published piece, Mad Cow Morning News follows David Corn's reasoning to a grave possibility:

But Federal prosecutors aren't just doling out justice. They appear to be putting a cover-up in place.
ôCasino Jackö Abramoff and minion Adam Kidan just may be about to get away with murder.
At the press conference, the prosecutor read out the charges against Abramoff and then in a forceful but rehearsed voice said that "government officials and government action are not for sale. The Justice Department will aggressively investigate and prosecute these types of cases which have a devastating impact on the public's trust of government. We will not shy away from that responsibility no matter where the trail leads."
The prosecution of public officials by the DOJ has increased 90% in 3 years. When asked, the prosecutor chose not to give an explanation for the increase.