Guest blogged by David Edwards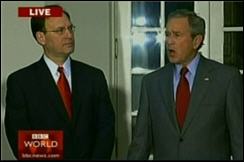 President Bush and Judge Alito appeared before reporters at the White House to kick off the Senate's Supreme Court confirmation hearings.
The President stumbled through a less-than-enthusiastic delivery of the standard GOP talking points in favor of Alito.

Video in Streaming Flash format...
Video in Windows Media format...
UPDATE: Bob Fertik has some interesting thoughts on this particular piece of video