Guest blogged by David Edwards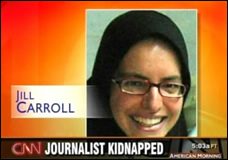 On Saturday, January 7th, American journalist Jill Carroll was kidnapped in Iraq. At the same time, her translator was also killed. Associate Press, Reuters, AFP and UPI almost immediately reported the story. Editor & Publisher compiled one of the most complete reports within hours of the kidnapping.
According to Samir Najim, a guard at al-Dulaimi's office, three armed men in a red Opel four-sedan intercepted the journalist's car and shot the translator before taking her in their car and driving away. The kidnapping took place about 100 yards from al-Dulaimi's office.
UPI, however, adds this somewhat conflicting detail: "They said the driver of the bus in which the journalist and translator were riding managed to escape the incident when he fled and sought the help of a police patrol that happened to be in the same area at the time."
While the BBC provided some details of the kidnapping during their broadcasts, American network and cable news outlets virtually blacked out the news. Jane Hamsher finds a possible explanation from comments in a Kos thread:
The first 24-48 hours are critical, and American news organizations tend to not want publicity, at least during that period. It can make it much more dangerous for her and difficult to secure her release.
European news organizations often approach this issue differently, however, and will make an annoucement earlier, especially if they feel that the nationality of the reporter is likely to decrease the threat to his or her life. That is not the case here.
Yesterday afternoon, AP released additional details including the name of the kidnapped journalist. Jill Carroll had recently lost her job at a newspaper and decided to follow her dream of covering conflicts in the Middle East. While in Iraq, Jill Carroll had done freelance work for The Christian Science Monitor, AJR, U.S. News & World Report and other foreign outlets.
Organizations like Reporters Without Borders have become increasingly concerned with the number of journalists killed in Iraq. 76 reporters and media staff are known to have been killed since the beginning of the Iraq war. In comparison, 63 reporters were killed within the 33 year Vietnam conflict. Some reports even suggest that the U.S. Military has targeted journalist in Iraq. Secret memos leaked in the U.K. suggest that President Bush wanted to bomb the headquarters of the Al Jazeera news network. In fact, Al Jazeera pulled all journalists out of Iraq after their Baghdad studio was "accidentally" hit by U.S. missles.
This morning, 3 days after the kidnapping was originally reported, CNN finally reported details of the Jill Carroll kidnapping.

Video in Streaming Flash format...
Video in Windows Media format...