White House Spins Scandal With Paper That Was Withheld from Investigation
Guest blogged by David Edwards of Veredictum.com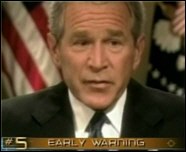 Video in Streaming Flash format...
Video in Windows Media format...
MSNBC Countdown reports on the tapes of FEMA/Bush teleconferences held the day before Katrina hit New Orleans. Bush was on the call when the experts said they were concerned about the levees and a "disaster within a disaster" at the Superdome.
Just hours after AP released the tapes, the White House responded with a transcript where Brownie says that Bush was "engaged." A very weak rebuttal, indeed. What's more is that the White House had earlier refused to turn over this same document to the Congressional investigation on Katrina.
Crooks and Liars has a high-quality video of AP's report.