Guest blogged by David Edwards of Veredictum.com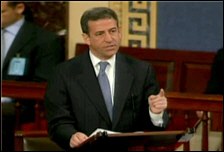 Video in Streaming Flash format...
Audio in MP3 format...
Senator Russ Feingold delivered this speech yesterday on the Senate Floor offering a resolution to censure President George W. Bush over illegal wiretaps.
The video runs about 25 minutes and is lower quality. We are not able to offer a Windows Media version because of the size. An MP3 Audio version is available.
Senator Feingold offers the resolution in PDF format on his website. The Raw Story has the complete text of the speech.
UPDATE FROM BRAD: That speech, by the way, starts this way, and then gets even better...
The President authorized an illegal program to spy on American citizens on American soil, and then misled Congress and the public about the existence and legality of that program. It is up to this body to reaffirm the rule of law by condemning the President's actions.
The Democrats have another opportunity to fail to do their jobs here. Looks like, aside from Feingold, they're prepared to take advantage of that opportunity. Call your Senators. Ask them if they support Feingold's Censure. If they don't, ask them why not. Firedoglake has helpful numbers and tips for ya.