Guest blogged by David Edwards of Veredictum.com
Paul Hackett has some campaign advice for Democrats but Ed Helms suggests that Paul Hackett may have too much backbone. Under Helm's guidance, Paul Hackett may yet become another gutless politician.
WARNING: Members of the DLC and other Democratic Party purists may be offended by the following Daily Show report by Ed Helms.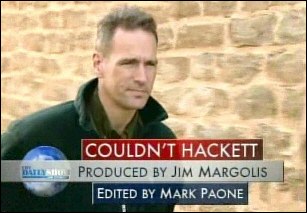 Video in Streaming Flash format
Video in Windows Media format