Guest blogged by David Edwards of Veredictum.com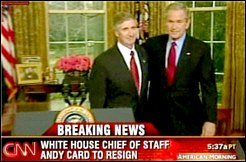 Video in Streaming Flash format...
Video in Windows Media format...
Audio in MP3 format...
President Bush's Chief of Staff Andy Card will be replaced by Josh Bolton, the current Budget Director, who is also part of the President's "inner circle".
This clip begins with an introduction by CNN's American Morning. MSNBC's Imus provides some comic relief as the President begin's his Press Conference. Imus refuses to watch the entire press conference (calling it "insanity"). The video switches back to CNN for Andy Card's comments. In conclusion, NBC White House correspondent David Gregory provides some post-speech analysis.
Read more information about the White House shakeup from AP.