In Case You Missed 'Em... Our Most Important BRAD BLOG Stories of the Last Week
Guest blogged by DES...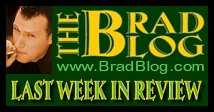 No time for anything but the goods. But it was another huge week. Don't believe me? Take a look at the notable headlines from the past week at The BRAD BLOG, all below for your convenience...
SUNDAY, JUNE 10th...
Rush Holt's HR 811 Does More Harm than Good
A Leading Election Integrity Advocate Speaks Out Against 7 Serious Failures in the Latest Holt Election Reform Bill ...
Guest blogged by Ellen Theisen, Co-Director of VotersUnite.Org
MONDAY, JUNE 11th...
Kucinich to Withdraw Co-Sponsorship of Holt Election Reform Bill
Announces Plans to 'Continue Oversight Hearings on Election Integrity' and Re-Introduce Legislation Calling for Hand-Counted Paper Ballots in Presidential Elections...

EXCLUSIVE VIDEO: Christopher Hitchens Says Votes Won't Count 'As Long As There Are Machines'
Says Everything Other Than A Paper Ballot Is A 'Racket and Fraud' And 'Should Never Have Been Allowed to Happen'
Guest Blogged by Alan Breslauer

Pam Smith of Verified Voting, The Latest of Many Election Integrity Advocates to Mislead Americans About the Holt Election Reform Bill
TUESDAY, JUNE 12th...
WEDNESDAY, JUNE 13th...
Study: Two-Thirds of Voters Fail to Notice Vote-Flipping on Touch-Screen DRE Voting Systems
If Voters Don't Notice Incorrect Votes on The Review Screen in Front of Their Face, Why Would They Notice it on a So-Called 'Paper Trail' Printed Afterward?
Guest Blogged by John Gideon of VotersUnite.org


Jim Lampley: Let's Hear it for the Brave and Beautiful Bree Walker
The Network Sportscaster and Outspoken Progressive Lauds Walker for Stepping in to Purchase Cindy Sheehan's 'Camp Casey' Property in Crawford, Texas...
Guest Blogged by Jim Lampley

GOP Vote Fraudster Thor Hearne's Attempt to Disappear Himself from Wikipedia Continues
PLUS: The GOP 'Voter Fraud' Legislation-Influencing Front Group Lied on Their Tax Disclosure Forms, Claiming They DID NOT Attempt to 'Influence Legislation'...
THURSDAY, JUNE 14th...
Didn't Get the Memo: Bush 'Civil Rights' Appointee Repeats Discredited White House/ACVR 'Voter Fraud' Bullshit in Senate Testimony
Refers to GOP Operative, Mark 'Thor' Hearne, by Name as Source of 'Information'
Hearne and His Disinfo Operatives Need to be Subpeonaed Immediately...

FL-13 Election Contest Continues to Continue
The Republican Who Most Likely Lost the Race, Held on Touch-Screen DRE Voting Systems, Continues to Serve in Congress as the Democrat Who Won Doesn't...

Judge Denies Libby Release on Bail; Defendant Will Self-Report When Directed by Bureau of Prisons
Judge Walton Tells the Court That He Has Been Getting Letters and Phone Calls Threatening Himself, Family
Two Appeals Specialists Are Added to the Defense Team...
*** Special to The BRAD BLOG by Libby/CIA Leak Trial Correspondent Margie Burns

Tim Griffin Cries, Denies 'Vote Caging' Charges, in Arkansas Speech
UPDATE: Compared Vote Caging With 'Caging Animals'...
FRIDAY, JUNE 15th...