Guest Blogged by John Gideon of VotersUnite.org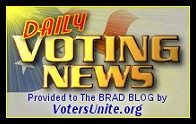 "When I finally saw the results of our [EVEREST] tests, I thought I was going to throw up. I didn't think it would be that bad. And it was — it was awful. I looked at it on a Saturday morning, and that night I went to bed and woke up [just before 4:00 on] Sunday morning going, "Oh my God." I never wake up on the weekends — trust me."
Jennifer Brunner, Ohio's Secretary of State, when asked in a recent interview about the state's EVEREST evaluation of the voting machines used in Ohio.
The group of potential voters that has participated the least in past years has probably been students. From all reports students seem to be engaged in this year's election and will be turning out in large numbers. That can only be a good thing. However, it seems that some are doing all they can to keep the students away from the polls. Our second "Featured" article discusses the actions being taken to disenfranchise student voters and the counter-actions to enfranchise them.
Featured - OH: Exclusive: OH's SoS Brunner Looks Beyond Todays E-Voting Nightmares
https://bradblog.com/?p=6483
Featured - National: College students facing barriers to voting
http://www.marshallnewsm...COLLEGE05_1STLD_COX.html
National: States' Purges of Voter Rolls Appear Illegal
http://www.nytimes.com/2...olitics&oref=slogin
National: NYTimes: Thousand of Eligible Voters Illegally Removed From Voter Rolls
https://bradblog.com/?p=6490
National: Are States Illegally Removing Voters From the Rolls?
http://www.prospect.org/...tates_illegally_removing
National: Purges & Provisional Ballots
http://moritzlaw.osu.edu...air/articles.php?ID=2461
National: Think Again: The Uses and Abuses of "Voter Fraud"
http://www.americanprogr...2008/10/voter_fraud.html
National: Polling places lack resources, civil rights group says
http://www.usatoday.com/...008-10-08-racevote_N.htm
National: U.S. polling places said to lack resources
http://www.timesoftheinternet.com/9743.html
National: Election Protection Wiki Registration Concludes in Many States
http://www.accuracy.org/...lease.php?articleId=1835
National: Elections officials deny illegally purging voters
http://ap.google.com/art...TkJJiWyLf7P0slQD93N69C02
National: Democrats Fight Back: Taking On GOP Voter Suppression
http://www.huffingtonpos...-back-taki_b_133358.html
National: Voters Want Choices. And They Want to Be Heard
That's why Ranked Choice Voting makes so much sense.
http://www.seattleweekly...d-they-want-to-be-heard/
National: Protecting the Vote
http://egpnews.com/?p=2379
National: Voting concerns persist in Florida and around the country
http://www.wmnf.org/news_stories/6224
AZ: Many Arizona election results could be delayed
http://www.azstarnet.com.../hourlyupdate/261506.php
AZ: Early ballots may stall vote results
http://www.azcentral.com...1009earlyvoting1009.html
CA: Los Angeles County - Surge in voter registration highlights electoral fraud
http://www.malibutimes.c...008/10/09/news/news6.txt
CO: Coffman to address NYT voter purge story
http://www.denverpost.com/dnc/ci_10678855
CO: Coffman says report wrong on voter purging
http://www.rockymountain...oter-purges/?partner=RSS
CO: Ritter scolds Coffman over voter error
http://www.rockymountain...offman-over-voter-error/
CO: Ritter Responds
http://www.csindy.com/gy.../Content?oid=oid%3A31158
CO: Denver - Voter registration forms scrutinized
Election workers find thousands of errors on records
http://www.rockymountain...ation-forms-scrutinized/
CO: El Paso County - Lawmaker calls out El Paso Clerk Balink for '12-point strategy' on voter suppression
http://coloradoindepende...egy-on-voter-suppression
CO: El Paso County - Springs editor beseeches Gov. Ritter to intervene in election 'crisis'
http://coloradoindepende...rvene-in-election-crisis
FL: Few reliable voting machines in Florida
http://www.heise-online....ines-in-Florida--/111696
IA: Plymouth County - Voters back to pen and paper at the polls
http://www.lemarssentinel.com/story/1468392.html
KY: Voters' fears about tricks understandable
http://www.kentucky.com/139/story/550030.html
LA: Iberia Parish - Electronic voting glitch reported in Delcambre race
http://www.iberianet.com...ee56fed1702965734605.txt
LA: Orleans Parish - State official suggests shakeup at polls
http://www.nola.com/news...ial_suggests_shakeu.html
MI: Thousands of voters removed or blocked from registering
http://abclocal.go.com/w...ws/local&id=6440949
MO: Voter registration fraud investigated
http://www.krcg.com/news...ews_story.aspx?id=204257
MT: Molloy calls GOP voter challenges 'political chicanery'
http://www.missoulian.co...8/news/local/news01a.txt
MT: Judge blasts GOP voter registration challenges
http://www.missoulian.co...09/news/local/news03.txt
MT: Montana GOP Spanked by Judge for Bogus, Illegal Voter Challenges
https://bradblog.com/?p=6489
NV: Lomax, Miller say NYT got it wrong
http://www.lasvegassun.c...er-say-nyt-got-it-wrong/
NV: Washoe County Registrar: Voter fraud attempts will be "unsuccessful"
http://www.krnv.com/Glob...702&nav=menu113_1_3
OH: E-voting system evaluator: "I thought I was going to throw up"
http://www.crunchgear.co...i-was-going-to-throw-up/
OH: Courts Allow Same-Day Vote Window to Go Forward in Ohio
http://voices.washington...w_same-day_vote_win.html
OH: GOP, Brunner spar over verifying voter registrations
http://dispatch.com/live...8/toolittle.html?sid=101
OH: Editorial - That's a Pretty Big Glitch
http://www.nytimes.com/2...ml?ei=5070&emc=eta1
OH: Dispatch propaganda campaign to cover-up e-voting flaws reaches new low
http://www.freepress.org...umns/display/3/2008/1684
OH: Ohio Secretary of State Jennifer Brunner on Voter Rights, Faulty Electronic Voting Machines, Voter Fraud and GOP Voter Challenges
http://www.democracynow....f_state_jennifer_brunner
OH: Franklin County - Voters who goof can get new ballot
Paper option may lead to more errors
http://www.dispatchpolit...ec=politics&sid=101
PA: Group says many Pa. voters may face lines at polls
http://www.philly.com/ph...mayfacelinesatpolls.html
PA: Philadelphia – 'Tis the Season of Election Dirty Tricks: Scaring Student Voters
Flyer Warns of Undercover Police Presence at Polls on Election Day
http://abcnews.go.com/print?id=5963751
SC: Beaufort County - County voting machines up and running
http://www.beaufortgazet.../local/story/579726.html
TN: Sullivan County - Sullivan election commissioner wants extra set of GOP eyes at the polls
http://www.timesnews.net/article.php?id=9008486
VA: Virginia not ready for Election Day surge, voters group says
http://hamptonroads.com/...rges-advancement-project
VA: Voter group says Va. not ready to handle huge voter turnout
http://www.inrich.com/cv...RTD-2008-10-09-0184.html
VA: Loudon County - Registered and Ready to Vote
Thousands Beat Deadline For November Election
http://www.washingtonpos.../08/AR2008100800034.html
WI: Our View: Voter ID suit all politics, no substance
http://www.wausaudailyhe...20081009/WDH06/810090334
WI: Politicians disrespect voting rights
Voting system needs to see improvements
http://media.www.spectat...ing.Rights-3478223.shtml
Washington DC - Firm, Elections Board Faulted in Voting Mishap
Panel Cites Poor Equipment, Communication
http://www.washingtonpos.../08/AR2008100803542.html
**Articles and commentary included in "Daily Voting News" may not all reflect the opinions of VotersUnite.Org or its allied organizations. The articles are all included for the information of the subscribers of "Daily Voting News" though we realize that the subscribers may not agree with the opinions given in all articles or in the commentary**
*******************************************************************
If you receive Daily Voting News directly from John Gideon and VotersUnite and wish to unsubscribe, please send an email to jgideon@votersunite.org requesting that you be removed from circulation. If you get the email forwarded from someone else you must contact them to be unsubscribed.
*******************************************************************