Guest Blogged by John Gideon of VotersUnite.org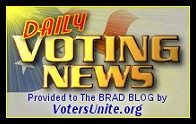 I'm 61 years old. I've been doing this work full-time for nearly the last five years. I long for the days, before I learned so much, when I was ignorant about dirty tricks, phony voter fraud accusations, voter list purges, voter suppression, poorly designed and inaccurate voting machines, absentee paper ballots that have the voters' political parties on the mail-in envelopes (Yes, Broward Co, Florida, does that and strips privacy away from the voters and state law allows them to do it), long lines at the polls, and every other attempt to keep voters from voting and votes from being counted accurately, if at all.
It was kinda nice not knowing about all of those issues. Oh, maybe someone would bring up the old story about ballot boxes floating in the bay. What bay was that? San Francisco? Lake Michigan off of Chicago? The Hudson River? The location seems to have changed with the person telling the story.
It was nice thinking our democracy actually worked the way our founding fathers envisioned it would. It was nice thinking that, no matter for whom I voted, the majority voice was heard. Now, it just feels dirty and somewhat depressing.
I know way too much. It was nice being ignorant...
**"Daily Voting News" is meant as a comprehensive listing of reports each day concerning issues related to election and voting news around the country regardless of quality or political slant. Therefore, items listed in "Daily Voting News" may not reflect the opinions of VotersUnite.Org or BradBlog.Com**