Guest Blogged by John Gideon of VotersUnite.org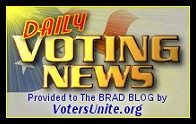 20 days until Election Day.
"Experts" are all speaking out and warning of voting meltdowns across the country. Where were these "experts" six months ago? Where have they been since the last national election? Why have they not spoken out against these same voting systems that they are concerned about now? Of course it wasn't political for them to take a position against the use of these machines until now.
1-866-OUR-VOTE; 1-866-MY-VOTE1 and now YouTube and WiredNews all want voters to report when they have problems voting. And what will happen with the data collected by these groups? Will any of it be compiled and released after the election? Probably not a lot of it is my guess....
**"Daily Voting News" is meant as a comprehensive listing of reports each day concerning issues related to election and voting news around the country regardless of quality or political slant. Therefore, items listed in "Daily Voting News" may not reflect the opinions of VotersUnite.Org or BradBlog.Com**