Guest Blogged by John Gideon of VotersUnite.org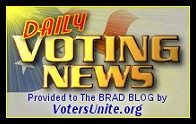 16 days until Election Day.
Yesterday we reported vote flipping on ES&S iVotronic DREs in Jackson Co West Virginia. Today we have a report from Putnam Co that votes are flipping on their iVotronic machines. In every case, in both articles, the voters are voting for a Democratic candidate and their votes were being moved to the Republican candidate by the machines.
Already turn-out is proving to be heavier than many jurisdictions have prepared for. Long lines have been reported in Nevada and New Mexico, and elsewhere, with voters having to wait for as much as two hours to vote. Luckily anyone who gave up has the time in the next two weeks to go vote early. I'm just afraid that Nov. 4 is going to find long lines at the polls and precincts ill prepared to handle the number of voters who want to exercise their right to vote....
**"Daily Voting News" is meant as a comprehensive listing of reports each day concerning issues related to election and voting news around the country regardless of quality or political slant. Therefore, items listed in "Daily Voting News" may not reflect the opinions of VotersUnite.Org or BradBlog.Com**