Morning Edition...
Guest Blogged by John Gideon of VotersUnite.org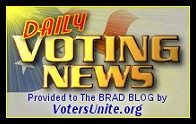 11 days until Election Day.
Because of concerns about voting machine failures in Arapahoe Co Colorado and the possibility of long lines and disenfranchised voters a US Congressman has asked the county to provide a common sense fall-back. Congressman Perlmutter has requested that the county have emergency paper ballots at each poll site. The county and Secretary of State have refused to do this.
At least 10,000 absentee paper ballots will have to hand counted in Gwinnett Co Georgia. The ballots were printed and sent out and then the county did pre-election testing only to find that the ovals on the ballots were printed too dark. Another vendor caused problem that will affect the voters. ...
**"Daily Voting News" is meant as a comprehensive listing of reports each day concerning issues related to election and voting news around the country regardless of quality or political slant. Therefore, items listed in "Daily Voting News" may not reflect the opinions of VotersUnite.Org or BradBlog.Com**