Evening Edition
Guest Blogged by John Gideon of VotersUnite.org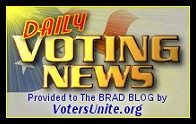 11 days until Election Day.
Two voters in Palo Pinto Co Texas have now reported that their straight party vote was flipped to another party. These are ES&S iVotronic machines. The same machines used to flip votes in West Virginia and South Carolina. Every voter needs to skip straight-party voting if they have that option and every voter needs to review their ballot on the touch-screen before touching that final "Vote" button.
Every day there seems to be one or two articles, mostly in the tech magazines and blogs, about the New Jersey/Princeton/Sequoia report. While Sequoia is probably not happy seeing these articles out there, I'm sure they are breathing a sigh of relief that the report only spent a very small time talking about the real reason the report was done in the first place; their voting machines failed to accurately count the votes in 9 counties on 38 different voting machines. This should NOT be a security issue. This IS an accuracy/reliability issue....
**"Daily Voting News" is meant as a comprehensive listing of reports each day concerning issues related to election and voting news around the country regardless of quality or political slant. Therefore, items listed in "Daily Voting News" may not reflect the opinions of VotersUnite.Org or BradBlog.Com**