Guest Blogged by John Gideon of VotersUnite.org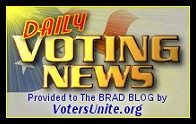 10 days until Election Day.
The story seems to be the same from most of the 'early voting' states; long lines of voters and from a few states vote flipping has been reported and it seems that the flip is always in one direction.
We highly recommend that if you, or a friend or acquaintance, have a problem at the polls you/they call the hot-lines – 1-866-OUR-VOTE and 1-866-MY-VOTE1. We also recommend that you notify the local media and don't give up on telling them what happened. Of course, there are other steps that need to be taken. See our featured article for more suggestions on what actions need to be taken....
**"Daily Voting News" is meant as a comprehensive listing of reports each day concerning issues related to election and voting news around the country regardless of quality or political slant. Therefore, items listed in "Daily Voting News" may not reflect the opinions of VotersUnite.Org or BradBlog.Com**