Guest Blogged by John Gideon of VotersUnite.org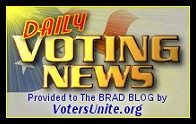 8 days until Election Day.
Kim Zetter writes in her "Threat Level" blog on Wired.com [Featured] that while ES&S touch screens in West Virginia were flipping voters votes the Secretary of State was busy giving an ex-official of that company, and a WV resident, Gary Greenhalgh, a "Medallion Award" from the National Association of Secretaries of State. Greenhalgh sold the machines used in the state to the state. While he no longer works for ES&S, his wife is now the companies representative in WV. Secretary of State Betty Ireland, just two years ago, filed a formal complaint against ES&S with the federal Election Assistance Commission, the body that oversees federal testing and certification of voting machines. She called for an audit of the company's contractual performance. She has now turned to a supporter of the company. Not covered by Zetter is that at one time Greenhalgh worked for MicroVote as their national sales director. This NASS "Medallion Award" winner was sued by his employer for what MicroVote says is "trade secret violations". According to James Ries Jr., the president of MicroVote, Greenhalgh's actions were "Probably the most damaging, he was actually selling the equipment being released from Montgomery County to our customers on the side. And it violated his working contract with us that he was selling outside of MicroVote's jurisdiction"....
**"Daily Voting News" is meant as a comprehensive listing of reports each day concerning issues related to election and voting news around the country regardless of quality or political slant. Therefore, items listed in "Daily Voting News" may not reflect the opinions of VotersUnite.Org or BradBlog.Com**