Guest Blogged by John Gideon of VotersUnite.org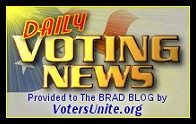 Need more proof that the vendors have made elections expensive? The folks in Vigo Co Indiana find themselves having to hold a special election for mayor of Terre Haute, a city of over 44,000 voters. The county would probably pay for the election and then be reimbursed by the city. The last municipal election the county paid for cost $580,000. The cost for one race in the city would probably be something less than that.
Why so much? The county pays ES&S to manage the voting machines. What would happen if the county or city just decided to print the ballots and hand-count them? Well, the ballots would cost around $0.05 per ballot or around $3500. The cost to hand-count those ballots, based on the cost to hand-count ballots in WA in the 2004 gubernatorial hand-recount would probably be less than $10,000. Why is it that we have these vendors involved in making our elections much more expensive than they should be? ...
**"Daily Voting News" is meant as a comprehensive listing of reports each day concerning issues related to election and voting news around the country regardless of quality or political slant. Therefore, items listed in "Daily Voting News" may not reflect the opinions of VotersUnite.Org or BradBlog.Com**