Guest Blogged by John Gideon of VotersUnite.org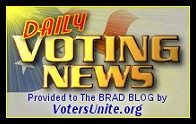 The "Daily Voting News" staff [all one of us] is going to take tomorrow off to enjoy family and friends. We will be back on Friday. We hope you all have a great Thanksgiving and have an opportunity to enjoy family and friends.
A three judge panel of the 6th US Court of Appeals in Ohio has ruled unanimously that a lawsuit filed by the League of Women Voters in the aftermath of the 2004 general election can continue in US District Court. One judge said this about disenfranchising acts by some election officials, ""If true, these allegations could establish that Ohio's voting system deprives its citizens of the right to vote or severely burdens the exercise of that right, depending on where they live"....
**"Daily Voting News" is meant as a comprehensive listing of reports each day concerning issues related to election and voting news around the country regardless of quality or political slant. Therefore, items listed in "Daily Voting News" may not reflect the opinions of VotersUnite.Org or BradBlog.Com**