Guest Blogged by John Gideon of VotersUnite.org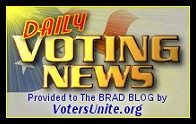 Three years ago, the New Jersey Legislature passed a law requiring voter-verifiable paper records by January 2008. Then twice in 2008, the Legislature extended that deadline, first to June 2008, then to January 2009.
Now verifiable voting in New Jersey will be delayed indefinitely unless you act. The bill S2380, and its companion A3458, would undo the the requirement, and establish a "pilot program" for voter-verified paper records. If enacted, S2380 and A3458 could well mean that New Jersey voters will not have verifiable voting in time for the next election for Governor in 2009. The only reasonable course of action now is to require the deployment of a better voting system to meet New Jersey's legal requirement for voter-verified paper records --- paper optical scan ballots --- as soon as feasible, but not later than the gubernatorial election.
New Jersey has had many problems with their Sequoia voting machines in the past. There is still a court case that is not complete. Why, in the face of the history of Sequoia in New Jersey, would the state legislators even think to change the law to allow the status quo? What action has been taken in the state by any vendor to make this happen? One can only wonder.
Below are links to a statement on the legislation made by Congressman Rush Holt and an action page that can be used by New Jersey voters, and others, to make their voices heard about this step backwards. We hope you will take action....
**"Daily Voting News" is meant as a comprehensive listing of reports each day concerning issues related to election and voting news around the country regardless of quality or political slant. Therefore, items listed in "Daily Voting News" may not reflect the opinions of VotersUnite.Org or BradBlog.Com**